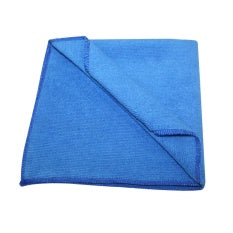 Since our towels feature split fibers, each of the hundreds of thousands of fibers have multiple edges which pick up and hold. This enables you to pick up and hold more dust, dirt, and liquid than with traditional cotton, disposable cleaning towels, or even other lesser quality microfiber cleaning cloth. It's like having millions of tiny hooks (created by the splitting process) that scoop up dirt and dust particles, trap them inside the towel and don't let go, then gently release them when you toss them in the wash. Your cleaning couldn't get any easier!

Thicker, softer, and more absorbent. A premium 16"x16" (40cm x 40cm) cloth for professional or household use.
Quality that lasts for hundreds of washings.